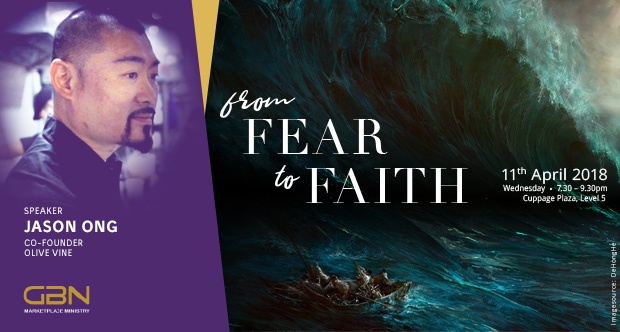 Theme: FROM FEAR TO FAITH
Speaker: Jason Ong, Co-founder Olive Vine Pte Ltd
Date: 11 Apr 2018, Wed Evening
Time: 7:30pm – 9:30pm (Door opens 7:10pm)
Venue: Nexus Auditorium, Lvl 5 Cuppage Plaza
Fee:

FREE
This Business Empowerment Event(BEE)  is FREE – to encourage maximum participation from Christian Entrepreneurs, Business leaders and Organizational leaders. (Freewill offering will be taken to defray the cost of organizing this event.)
About The Speaker
In 2004, Jason Ong was diagnosed with an extremely rare form of a malignant brain cancer. It was discovered the cancer had already damaged major tissues within his brain and his left ear, and since Jason is the first case of such cancer in the medical history of Singapore, the doctor concluded that there was no cure, drugs or treatments available to him at that point of time.And the last words from the doctor were "You are left with at most 6 more months…."
Upon receiving this "death sentence", unlike anyone of us who may instantly cry ourselves in the pit of hopelessness and despair. Instead, Jason turned to God and remembered the words from Romans 8:28 –"God works for the good of those who love him, who have been called according to his purpose." And he bravely told his wife, Judith "This is not the end. We still have 6 months."He knew in his heart that if he were to die, he would need to be ready to meet God. Hence, he had to make the most of what he was left with and since received the mandate from God to defend the marginalized and take care of the widows and abandoned children.
"Defend the weak and the fatherless: uphold the cause of the poor and the oppressed. Rescue the weak and the needy; deliver them from the hand of the wicked." – Psalms 82:3-4
Carrying that mandate, Jason and Judith started their F&B business – Olive Vine, dedicated to using this business as a mission to serve the marginalized children and orphans. Even though they have no prior experience in F&B business, Jason and Judith entered with simple faith and obedience to God's calling.
When they first started out as a hawker in a food court, similarly to any new startups; they struggled with sluggish revenue, high rentals & food costs, and long working hours etc. While they were barely making ends meet, adding salt to the wound – Jason was constantly suffering from the excruciating pains in the brain, side effects of spontaneous bleeding and black-outs.
With dark clouds looming and the uncertainty of life; everything seemed impossible. Yet he encouraged his wife to trust in God for providence and make sure the business must continue so that the mission to take care of the widows and orphans can be accomplished.Just as the doctor predicted, Jason suffered a major relapse and had a brush with the harsh reality of death.
Fear arose but God turned it to FAITH! – HE turned Jason's focus on Christ, and led him to step out with courage and strength. In a divine encounter, Jason met JESUS where God breathed into him a new breath of life and had since sustained his life till now.
Today, Jason and Judith operate Olive Vine as a restaurant located in Marina Square and has since funded and grown the ministry to love and feed over 600 marginalized children across South East Asia region.
About This BEE
Jason will be sharing on the this GBN Business Empowerment Evening, drawing from the story in Mark 4: 35-41, where the disciples were fearful when facing the storm….
Through his testimony of fighting cancer for over 10 years, illustrates how we can journey with Jesus from fear to faith, completely trusting in His strength and power to see us through every difficulty in our life and business.
Come and be inspired by his sharing of a victorious life in Christ with purpose and vision, turning from fear to faith.