THEME: On The Business Of Business – Reflections on Christianity, Human Flourishing & the Marketplace

SPEAKER:

Dr Steven Garber | Senior Fellow for Vocation & the Common Good, the M.J. Murdock Charitable Trust,

Author
PANELISTS:

Rachel Teo | Former Head of Sustainability, Total Portfolio Sustainable Investing – GIC
Timothy Wong | Managing Director, Head Group Research &

Strategy – DBS
---
Date: 12th Oct 2023, Thur
Time: 7:30pm – 9:30pm (Seating starts at 7pm)
Venue: Zion Bishan Bible Presbyterian Church, 4 Bishan St 13 Singapore 579792

Fee: FREE
This Business Empowerment Event (BEE)  is FREE – to encourage maximum participation from Christian Entrepreneurs, Business leaders and Organizational leaders. (Freewill offering will be taken to defray the cost of organizing this event.)
In this Business Empowerment Event, we will explore a richer, truer vision for vocations in the marketplace, one rooted in the Christian commitment to the flourishing of cities and states, an economics of mutuality in which people, place and planet all matter.
Topic and Insights:
Steve's Ted Talk
Panel Discussion
Group Discussions – Q&A
Steven Garber is the Senior Fellow for Vocation and the Common Good for the M.J. Murdock Charitable Trust. The author of several books, including Visions of Vocation: Common Grace for the CommonGood, and his most recent, The Seamless Life: A Tapestry of Love and Learning, Worship and Work. 
For many years he was the Principal for the Washington Institute for Faith, Vocation and Culture, and he also served as the Professor of Marketplace Theology at Regent College. One of the founders of the Wedgwood Circle, he continues to serve as a consultant to colleges and corporations, facilitating both individual and institutional vocation. Long a teacher of many people in many places, he lives in Virginia among family, friends, and flowers.
Rachel Teo has been in the financial industry for the last 26 years, during which she held positions in the Monetary Authority of Singapore and Government Investment Corporation(GIC). Rachel was named one of the Top 50 Women in Investment Management by Institutional Investor in 2021, in recognition of her industry thought leadership on sustainability.
Her last appointment was as Head of Sustainability and Total PortfolioSustainable Investing at GIC, where she drove the integration of sustainability considerations across the investment organization and conducted thought leadership research to deepen understanding and build strong conviction for long-term sustainable investing. Rachel graduated with a first class honours in Economics from the National University of Singapore and a Masters in International Politics and East Asia from the University of Warwick in the UK. 
Timothy Wong is Managing Director and Head, Group Research and Strategy. He is tasked with driving the Asian Insights initiative for DBS which seeks to deliver differentiated value to DBS customers via a collective in-depth understanding of Asian economics, markets and business. In addition to this, he also directs the corporate strategy function for DBS Group.
A 30-year veteran in the field of Investment Research, Tim has been a Fellow for Financial Markets with the Institute of Banking and Finance since 2014. He is a keen advocate of the Economics of Mutuality (EOM) approach to sustainable business model innovation. He was a panellist at the Responsible Business Forum at Oxford University's Said Business School in 2019. He received certification as an EOM expert in 2020, having competed the executive education program run jointly by the EOM Foundation and Oxford's Said Business School.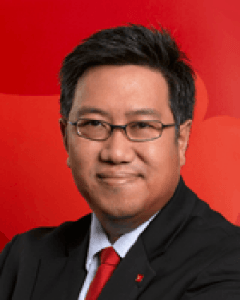 Special Invitation: Bring a Pre-believing Friend!
Share this enlightening experience with a friend who may be seeking or on the path to questioning the Christian belief. Inspire them on this spiritual journey and encourage them to discover how God still speaks to us audibly and why He cares if we flourish in our work.
Don't miss out on this extraordinary event that combines faith, career growth, and meaningful connections. Seats are limited, so secure your spot today and start living a more purposeful and fulfilling career aligned with your faith.
This is a FREE event, however RSVP early! Registration closes immediately upon maximum capacity.