BREAKING FREE! YOU CAN OVERCOME…
Have you ever felt like you are constantly under the attacks of the enemy in your workplace or business? 

And no matter how you try to break free, you just don't seem to be able to break through? 
WATCH THIS VIDEO
This 2-min video gives you a glimpse of the highlights of this workshop on how you can break free and be an overcomer. You can walk in Godly Victory & Success in your business and workplace today.
Sign up for this workshop now! 
ABOUT WORKSHOP
Spiritual warfare is a real deal. There are many such warfares expressed through numerous examples in the Bible. More so in the Marketplace of our work and businesses, no one is exempted from the waging war in the invisible realms. In spite of it, God desires His children to possess victory, experience His ordained success, and gain grounds in breakthroughs. 
This workshop aims to equip business owners, entrepreneurs, and professionals with the foundational knowledge, skills and attitudes to identify and overcome spiritual strongholds in the Marketplace.
LEARNING OUTCOME
Understand the mechanics of spiritual warfare in the Marketplace

Examine the principles of authority related to spiritual warfare

Differentiate common types of strongholds and oppressions related to spiritual warfare

Develop strategies to wield the spiritual weapons of war for victory

Justify the importance of anointing for spiritual breakthroughs 
WHO IS IT FOR
Business Owners | CEO | CXOs

Entrepreneurs | Social Entrepreneurs | Solo-

preneurs

Organisational Leaders | Management Leaders

Marketplace Professionals

Non-profit Organisational Leaders

Faith-Based Small Group Leaders | Team leaders
TICKET PRICING
Purchase early to save up to 30%!!!
(Registration ends 25th Oct 2018)
SUPER EARLY BIRD TICKET
$97/- pax 
(Ends 10th Sep'18 – SOLD OUT!)
EARLY BIRD TICKET
$117/- pax 
(11th – 30th Sep'18 – SOLD OUT!)
REGULAR TICKET
$137/- pax 
(After 1st Oct'18)
WORKSHOP: BREAKING FREE – OVERCOMING STRONGHOLDS IN THE MARKETPLACE 
SPEAKER: PASTOR BRYAN TAN | Master Trainer | Leading Arrow Consultancy
---
9:00AM – 5:30PM
(Door opens 8:30am)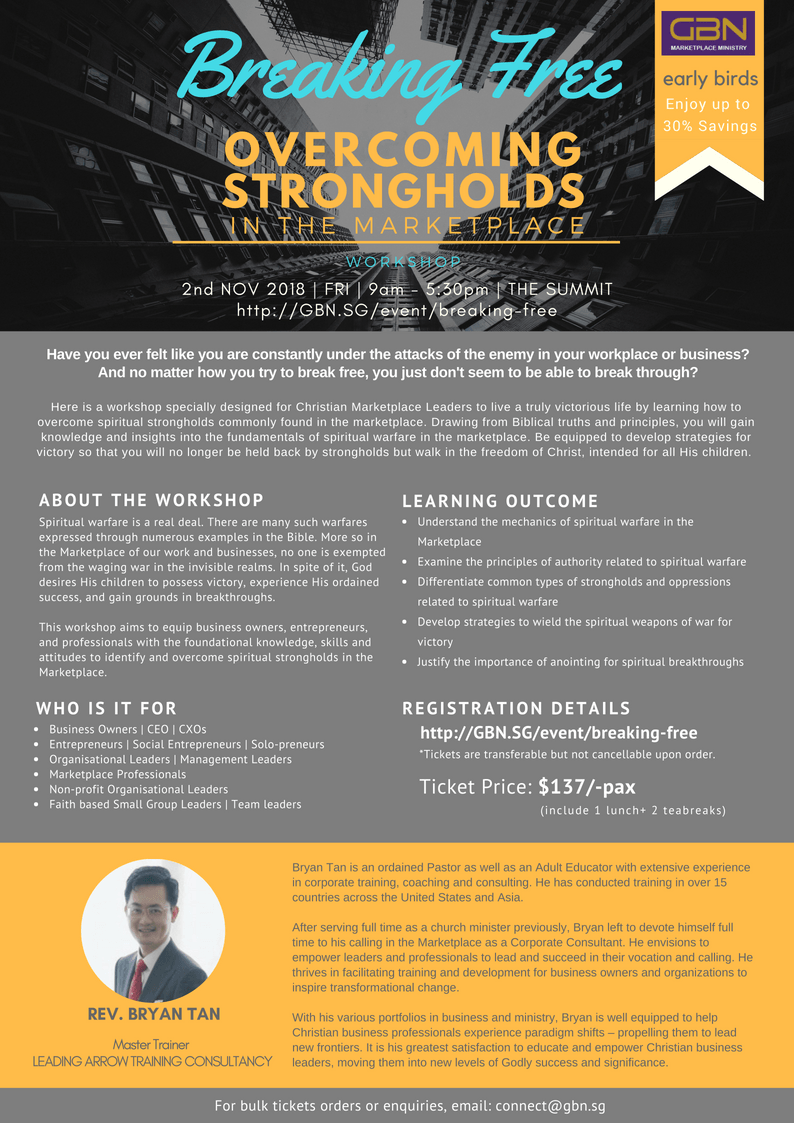 EMAIL connect@gbn.sg for
Any enquiries| Assistance for bulk tickets purchase | Technical problems with online purchases