BUSINESS COACHING & MENTORING PROGRAM
For business owners, CEOs and Marketplace Leaders, leadership is a lonely journey. Business leaders often find it difficult to talk to someone in confidence regarding issues in the business, their family or even their own lives. Christian business leaders find it doubly challenging, especially as they endeavour to integrate faith and business. Executive or life coaches are limited in their capacity to appreciate the issues faced by Christian business leaders, and the advice they give seldom aligns with the Word of God.
But now there is a platform where you can seek godly counsel from experienced mentors –
The GBN Mentoring Program.
Business Coaching & Mentoring
In a business mentoring role, GBN helps you to understand the strategic issues in your business, develop and nurture your core strengths, turn your weaknesses into strengths, understand and build measures to combat competitive threats, gear up to take advantage of market opportunities. One of our main tasks is also to build godly values in your life and your business culture.
GBN's mentoring model provides focus on the business issues and at the same time helps you establish a Kingdom business. The model benefits you by injecting a greater width of expertise, which is drawn from a rich pool of experienced professionals, consultants and successful business owners (all of whom are believers) applying ideas, proven strategies and processes, achieving business transformation through a hands-on mentoring approach and side-by-side implementation.
We actively work with you to develop your business and improve it as it happens. Our goal is to transform your business for success, so that you can make a greater impact for the Kingdom.
Strategic Business Review
Whether you are starting a new business venture or managing an existing one, it is always critical to undertake a strategic review of your business. The big picture is constantly changing – business cycles and product cycles are changing more rapidly than ever. How do you ensure that your business is able to stay ahead of changing business needs, consumers' tastes and preferences, as well as competitive landscape.
Operational Business Review
Operational excellence is all about driving productivity, quality and timely delivery of goods and services to customers, at prices that are competitive. To achieve this, we need to examine and analyze existing structures and processes to see if the organization is able to utilize its resources to the best of its ability with as little wastage and duplication as possible.
Approach
Our approach to implementation is to work hand in hand with you to implement the solutions recommended. Our process is designed to engage your staff at all levels as their involvement not only breaks down barriers to change, but also ensures changes are reaching and consequential.
In this process, we also take the opportunity to build in godly values in the working culture of your organization. Our goal is not only to help you build a successful business, but a Kingdom business that has an impact for Christ in the marketplace.
Chandra Widjaja has over 18 years of professional experience in business consulting, investment, mergers & acquisitions and business development. He has been involved in a wide-range of businesses throughout the different stages of their development, from the conceptualisation stage through to fund raising and expansion. He is currently a director of an electrical cable distribution company with regional presence.
Boyd Au is the former Executive Chairman and Chief Executive Officer of the Enzer Corporation Ltd. He was responsible for managing the growth of the Group and providing strategic directions for the Group. He currently heads 7 Notes Capital which trains and coaches entrepreneurs to grow their business.
Boyd holds a Masters degree in Business Administration from the University of Hull, a Graduate Diploma in Personnel Management from the Singapore Institute of Management and a Diploma in Industrial Management from the Institute of Industrial Management (UK). He is a Fellow of the Chartered Institute of Marketing.
Seow Kiat Wang is a partner in a private investment company which he co-founded in 2005. Prior to this, he has more than 20 years of operational experience in the electronics related manufacturing industry. Kiat Wang received his first class honors degree in Mechanical Engineering from the National University of Singapore in 1984 and his Masters degree in Engineering from the same university in 1988.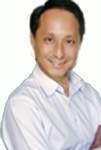 Dr Gilbert Tan is an Associate Professor of Management Practice, at the Lee Kong Chian School of Business, Singapore Management University (SMU). He is actively involved in executive education at SMU and at the National University of Singapore (NUS, 1989-1999). Prior to joining SMU, he was the Principal Consultant at IC2 Training Consultancy (1999-2004). His clients include Creative Technology, Great Eastern Life, Ministry of Defense, Ministry of Education, Ministry of Health, MDSO, Ngee Ann Polytechnic, Singapore Police Force, and PSA Corporation. He has written and presented papers at regional and international conferences in Malaysia, Hong Kong, Japan, Korea, Taiwan, Australia, the United States and Canada. His articles appeared in international and regional journals, such as Creativity and Innovation Management, Current Topics in Management, International Journal of Management, Journal of Global Marketing, Journal of Management, Spirituality & Religion, and Journal of Organizational Behavior. His research interests include corporate social responsibility, creativity, and spirituality at work. His professional experience encompasses more than 20 years in global marketing management and business development and has held various management positions and key consulting positions in wide-ranging industries. Matthew has had significant experience in business restructuring and the evaluation new technology and has successfully worked on the commercialization of several new technologies which resulted in a number of startup companies in NTU.
Victor Leong has worked as a corporate lawyer and an investment banker. He has extensive experience in the areas of business advisory, corporate finance, mergers and acquisitions and capital market issues. He has worked with various governments and corporations in Asia for many years. He has assisted many high growth companies in raising capital, advised corporations on mergers and acquisitions, initial public offerings, corporate and debt restructuring. He is currently heading Xtreme Lubricants Lab.
Jacob Tay started Info-Tools Pte Ltd in 1992. He was the first to develop real estate database management software and subsequently started Singapore's first and largest multiple listings services. He is also the co-founder of www.iProperty.com.sg, Asia's Largest Property Portal network listed in ASX. Jacob is currently an investor in properties, commodities, currencies & online marketing platforms

Gan Choon Beng is a practicing lawyer and is the Senior Director at Infinitus Law Corporation and head of its Corporate, Commercial and Technology Department. He graduated from the University of Singapore (now known as the National University of Singapore) in 1977 with an LLB (Hons.) and was admitted to the Singapore Bar in 1978.
He has extensive expertise in the field of corporate law including joint ventures, mergers and acquisitions, and corporate restructuring. He advises extensively start-up and spin-off companies including those from ETPL, NUS and NTU in corporate structuring, structuring and negotiating investments from angel investors, corporate investors, venture capitalists, SPRING and other Singapore government related entitles. A substantial part of his practice includes technology licensing, commercial law, franchising, computer law and advising on internet and e-commerce transactions, and management corporations.
He is a member of the Law Society of Singapore and the Singapore Academy of Law, and is a Notary Public and a Commissioner for Oaths. He is also a member of the Licensing Executives Society (Singapore), the Singapore chapter of the Licensing Executives Society International (LESI), and an associate member of the Franchise & Licensing Association (Singapore).